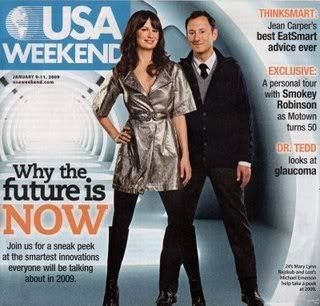 Great to see Michael on the cover of USA Weekend as I went through my Sunday newspaper.  He and 24's Mary Lynn Rajskub talk a little about their shows as the magazine also shows new products coming out in 2009.  USA Weekend is aviable in most US Sunday newspapers.
By Reed Karaim
The new year also marks the return of two of TV's most anticipated shows: Fox's 24 (starting this Sunday) and ABC's Lost (starting Jan. 21st). USA WEEKEND brought together two of the stars to see what they were excited about for 2009.
"I want to see if there truly is a change of direction and spirit that is consistent with what people are feeling now," says Michael Emerson, who plays Benjamin Linus on Lost.  "I'm also curious to see where Lost is going because God knows how it will all look in the end."
-Thanks to DarkUFO for the scan.